[Text|High-tech LED reporter Luo Shenghua] On March 17, a paper "Administrative Punishment Decision" issued by the Guangdong Securities Regulatory Commission of the China Securities Regulatory Commission allowed Qinshang Optoelectronics (002638.SZ) to temporarily land safely from the illegal delisting.
In response to the company's letter of infringement, the Guangdong Securities Regulatory Bureau ordered the company to make corrections, give warnings, and impose a fine of 500,000 yuan. At the same time, the relevant senior officials of the company also made corresponding punishments. However, for Qinshang Optoelectronics, the performance growth in the next few years will face greater pressure.
According to the 2014 annual performance report data released by the company on February 27, the total revenue of Qinshang Optoelectronics in 2014 was 927 million yuan, down 18.73% year-on-year; operating profit was 2,487.12 million yuan, down 79.18% year-on-year; total profit was 31.227 million yuan. , a year-on-year decrease of 75.19%; net profit attributable to shareholders of listed companies was 25.70 million yuan, a year-on-year decrease of 75.60%.
In 2014, the performance of LED listed companies showed a double growth in general revenue, while the performance of Qinshang Optoelectronics showed a contrarian recession.
Qinshang Optoelectronics explained that due to the increase in research and development expenses, the loss of joint ventures, the slowdown of construction progress, and the increase in inventory depreciation, coupled with increased competition in the macroeconomic environment, the company's orders in 2014 decreased.
Interpretation of this, a LED industry veteran said, "As far as the overall performance of domestic LED lighting companies in 2014, the five explanations of Qinshang Optoelectronics are too far-fetched, and the root cause is worthy of careful reading."
Difficult
<br> <br>
LED street lamp market
has been handling the optical performance of the contribution of over-reliance on outdoor lighting business. According to the monitoring data of the High-tech Research Institute LED Industry Research Institute (GLII), as of December 31, 2012, outdoor lighting revenue accounted for 47.09% of Qinshang Optoelectronics' total revenue. By June 30, 2014, this proportion had risen. 63.77%.
But behind the growth of data is the lack of growth in outdoor lighting performance. Data show that in 2013, Qinshang Optoelectronics Outdoor Lighting Revenue increased by 49.83% in 2012, ranking first in the 2013 China LED Street Light Enterprise Competitiveness Ranking released by GLII.
But in 2014, the growth rate of outdoor lighting fell rapidly. Data show that in the first half of 2014, Qinshang Optoelectronics Outdoor Lighting Revenue increased by only 27.79% compared with the first half of 2013. In 2014, China's LED street light enterprise competitiveness ranking also slipped to fourth place.
Behind the lack of performance growth, in addition to the policy risk factors brought about by the change of local government, the intensification of competition in the LED outdoor lighting market is the biggest incentive.
In 2014, domestic outdoor lighting demand showed further growth. According to GLII statistics, the size of China's LED street lamp market reached 14.7 billion yuan in 2014, a year-on-year increase of 22%.

The exit signs category features lighted LED exit signs to comply with building fire codes and insurance standards. These energy-saving, illuminated, long-life LED exit signs to use less than 5 watts of power, lowering your energy consumption and saving you money every month. An exit sign is a device in a public facility (such as a building, aircraft, or boat) denoting the location of the closest emergency exit in case of fire or another emergency. Most relevant codes (fire, building, health, or safety) require exit signs to be permanently lit.

We offer a wide range of designs and features for LED exit signs including Glass Exit Sign, aluminum and acrylic exit sign, ABS and acrylic exit sign, and ABS exit sign.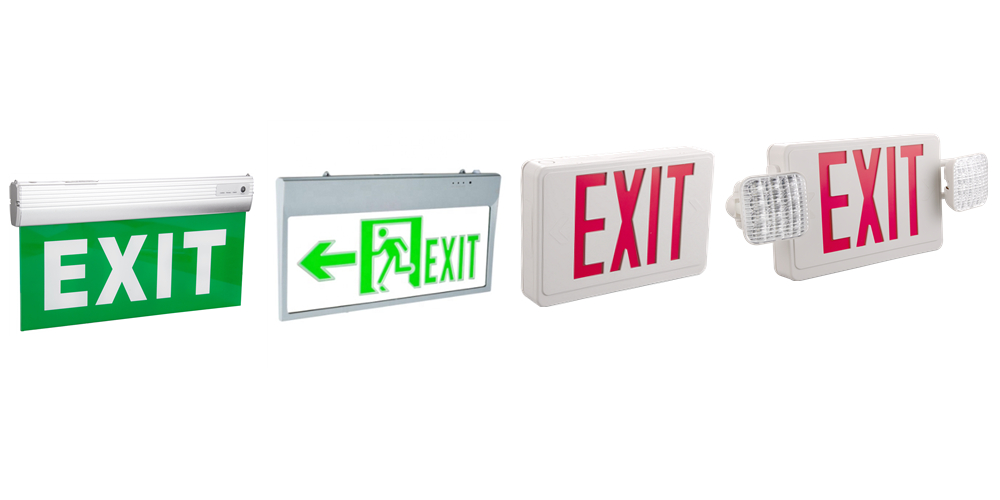 Commercial Exit Sign,Illuminated Exit Signs,Battery Powered Exit Signs,Emergency Exit Lights Led
Jiangmen City Pengjiang District Qihui Lighting Electrical Appliances Co., Ltd , https://www.qihuilights.com