Jinli was affected by the sharp turn of the LED market last year. The annual revenue was NT$845 million, down 17% year-on-year. The fourth quarter revenue was only NT$170 million, which fell to a new low of more than two years. Insufficient scale, a single season may fall into a small loss, but last year there was a chance to make a small profit.

Looking forward to this year, Jinli said that the transparency of the first quarter is still not good, but the industry generally expects that the second quarter will be significantly improved, especially the LED lead frame part. At present, the company's terminal market is dominated by handheld applications and lighting. Many of them have optimistic views on the lighting market this year. The company's mold development has also been fully followed, and the LED TV penetration rate has increased, becoming the main force for revenue growth this year.

Jinli's current revenue is the largest from the LED lead frame, accounting for more than 40% of revenue, and other heat sinks and connectors, and because the connector products are only part of the foundry, due to the vertical integration of manufacturers in recent years, the compression parts committee In the external field, the proportion has declined year by year. As for the heat sink, it is mainly for game console customers.

As LCD display in YFJ company that we usually use it to military grade battery ,especially Lithium-ion batteries ,for these battery applications ,we have obvious advantage is that we focus more on shor circuit protection which we follow the US military standard.
Short circuit protection:The following test shall be performed. Charge batteriesas specified in ; use of 4.6.3 is permitted. Measure and record the OCV. Short each battery across all the positive and negative terminals with a total external resistance not greater than 50 milliohms. After one hour remove the short from across the terminals. Measure and record the OCV. Stabilize batteries at the normal conditions of 4.3.1 for not less than 2 hours. Chargebatteries in accordance with 4.6; use of 4.6.3 is permitted. Stabilize batteries at normal conditions for not less than 2 hours, then discharge the battery in accordance with 4.7.2.3. The battery shall meet the requirements of 3.7.2.3.


Li-Ion Battery With Lcd Display
Charge voltage: 16.8V
Nominal voltage : 14.8V (4S7P)
Initial impedance : 120mΩ
Nominal capacity: 19.6Ah
Minimum capacity: 19.4Ah
Communication methods : SMBUS data communication
Electricity quantity show: LCD Electricity quantity show
Charge current: Standard Charging::0.2C5A (3.9A)
Rapid charge: 0.5C5A C(9.8A) Max
Standard Charging method : 3.9A(0.2C5A) CC(constant current)charge to 16.8V,then CV(constant voltage 16.8V)charge till charge current decline to ≤196mA(≈0.01C5A)
Charging time:Standard Charging: 6.5hours(Ref.)
Rapid charge: 3.5 hours(Ref.)
Max.discharge current: 9.8A(0.5C5A)
Discharge cut-off voltage: 10.0V
Cycle life (0.2C5A/0.2C5A) : 500 items,≧80%DOD; 300 times,≧80%DOD
Operating temperature : Charging: 0℃~45℃
Discharging:-20℃~+60℃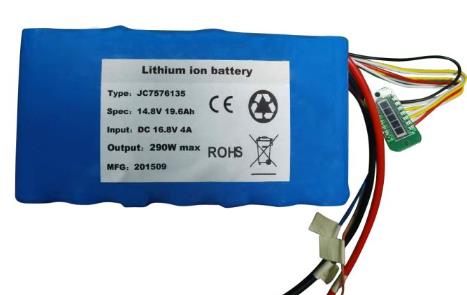 Li-ion Battery With LCD Display
Li-Ion Battery With Lcd Display,Battery Charger With Lcd Display,Battery Pack With Lcd Display,Rechargeable Battery Pack With Lcd Display
YFJ TECHNOLOGY (HK) CO.,LIMITED , http://www.yfjpower.com