In recent years, Career has established chip factories and packaging factories in China. Currently, more than 90% of Cree's LED packaging devices are supplied by Chinese factories, and localization is an important strategy of Cree.

From the birth of the first lighting-level LED device to the birth of 231lm/W white power LED, Cree has continuously improved the efficiency of LED with the pioneering attitude and strong R&D strength, and is continuously dedicated to achieving unprecedented high-performance LED lighting applications. For the current industry development and market trends, Tang Guoqing, general manager of Carey China Market, expressed even more confidence: 'The short-lived cold weather does not represent the enduring winter, and we are still full of enthusiasm for the development prospects of the Chinese market. '

Market will grow gradually

Recently, business failures and frequent price fluctuations are reported. It seems that the winter of LED will be very cold. In this regard, Mr. Tang Guoqing, general manager of Cree China Market, believes that: "The short-lived cold weather does not represent the long-term sustainability of the winter. First, China's overall LED industry chain has developed rapidly and is the fastest growing region in the world. In the future, China will be the world's largest LED application market. At the same time, the Chinese government's action on policy promotion is also very rapid. With the announcement of the elimination of the incandescent light roadmap, the promotion speed of LED products will also be accelerated. Energy-saving lamps, LED lamps have more competitive advantages and alternative advantages. In particular, current hotel and commercial lighting continues to grow and develop rapidly. '

'But the market is not an explosive growth, it is a gradual growth,' Tang Guoqing believes that 'the future development of LED lighting has gradually become rational. The development of semiconductor lighting is a healthy and orderly development rather than disorder. We should not expect the goal to be realized in one day. In the media guidance and policy formulation, we must pay attention to avoid misunderstandings in the industry. '

In 2011, LED companies will face many temptations such as expanding production capacity and capital operation. Of course, if a company is successfully listed and developed, it will inevitably be eliminated. This is the law and trend of market development. For the listing of a series of LED companies, we must make them feel strong stamina while clapping their hands. We do not need to feel frustrated for the companies that have failed. This is the market's survival rule and it is a normal phenomenon. In general, in the future, whether applications, packaging or chip companies, the most effective place is in the Chinese mainland. Tang Guoqing stressed: 'Everybody should use their expertise in the field of technology better, rather than blindly expanding capital operations and extending the industrial chain, to make patented technology, can fundamentally promote the healthy development of the industry. '

Lighting is greatly different from this

The market needs brighter, better-performing devices to equip lighting fixtures. For LED lighting devices, high efficiency can save energy. Cree's products use silicon carbide substrate, the biggest advantage is that it can increase the current, such as Cree's XP-G products, some customers can use the efficiency to 23%, but in fact can use at least 70% to 80% . Of course, this has higher requirements for the lamps and the design of the solutions should be reasonable. Compared with other brands of products, at the same driving current, Cree LED devices have the highest lumen output, which is nearly 30lm higher than other products, and thermal resistance is only 4°C/W, which is lower than other brands; meanwhile, it can provide 80min, 85min, 90min and other color rendering index selection.

'Customers need the most cost-effective products. Reducing the cost of one point can win a very high market. Only by continuously reducing costs can we better open the LED lighting market. "Products with better quality, higher reliability, and the ability to provide customers with no worries about quality and patents are the best competitive strategies," Tang Guoqing stressed. Currently, Cree has launched XP, XM and XT series products for road lighting, and has MX-3, MX-6, XP-E HEW, and CXA2011 bulb lamps for indoor lighting, and CLA1B and ML-B for fluorescent lamps. MX-3, MX-6, XP-E HEW, XB-D, XT-E, CXA2011 for downlights, ML-C, ML-E products, etc. for downlights, XP in commercial lighting, The XM-L, XB-D, XT-E, MP-L, MT-G, and XM-L EZW high color rendering products, covering every area of ​​the lighting market, Cree has a corresponding product, can be all-round Meet market demand. Sales and technical engineers will work together to provide customers with services, including products and supporting solutions, and not sell products for sale. This is Cree's innovation.

The competitive advantage of silicon carbide and sapphire substrates is that they can be brighter. According to the current level, relevant experts believe that the sapphire substrate technology has a light efficiency limit of 150 lm/W, and Cree now has 231 lm/W of light efficiency in silicon carbide substrate technology laboratories, and its technical advantages are self-evident. Due to the increase in domestic equipment prices, the demand for sapphire is very large, tax revenues are gradually increasing, and prices will increase in the future. Cree introduced the 350mA single chip under the conditions of cost performance reflected in the smallest materials, smaller size, product brightness increases and the price remains the same, so the overall cost of the lighting will be relatively low. Cree's 6-inch substrate technology will further help reduce LED costs.

In addition, Shanghai Donghai Bridge lighting renovation project and 120km deep highway LED lighting project are two important examples of LED road lighting completed by Career in recent years. The LED lighting of the East China Sea Bridge Lighting Project renovation project uses Cree's advanced lighting grade XLamp LED products, and pilot reconstructions of bridge street lights, bridge pier floodlights, bridge-side pole lights, and Xiaoyangshan tunnel lights were carried out. Save more than 2.4 million yuan in electricity costs, according to the statistical annual carbon dioxide emissions can be reduced by at least 2,120 tons.

Lighting change LED 'wisdom'

China has eliminated the incandescent lamp roadmap. The state's subsidy and promotion of green lighting fixtures are gradually being carried out. Can LED lamps become the first choice for green lighting fixtures after CFL lamps and become the most concerned issue in the semiconductor lighting industry? Tang Guoqing believes that CFLs Behind the lights is the moment when the LED shines. At that time, at the beginning of LED, it was still the world of incandescent and CFL lamps. It was used as a dream of lighting or LED people. Everything was moving forward. With technological progress in recent years, from the initial 20 lm/W to the latest 231 lm/W this year, advances in technology have made lighting changes possible.

Fluorescent lamps and CFL energy-saving lamps, which are widely used in traditional lighting, are faced with difficult developments such as phosphors, rare earth price increases, and vicious competition in the industry. The state requires that the CFL contain 2mg of mercury, currently it is usually 5mg, to achieve 2mg, the equipment will be a great investment, can reduce the content of liquid mercury to solid state mercury, few manufacturers, almost all the traditional lighting manufacturers are turning to LED Lamps, lighting changes gradually approaching.

Eliminating low-efficiency lighting and leading the lighting revolution are the goals that all LED people have always adhered to. Taking the XLamp LED series products supplied by Cree as an example, the application of LED products in the domestic market is ubiquitous, such as the Beijing Olympic Games, Shanghai World Expo, the Shenzhen World University Games, the Great Hall of the People, and Wuxi Palace. Achievements of LED Lighting Projects of City Landmarks. In addition, it also helped Tibet's solar LED street light project to create a record of installing hundreds of sets of solar LED street lights in the world at an altitude of 4,500 meters above sea level, bringing light to the minority villages without electricity in the snow-covered plateau.

Tang Guoqing believes that LED will bring fundamental changes to the lighting applications, LED will become a true sense of green lighting and smart lighting, and even with the popular 'cloud' technology into a 'cloud lighting'. The main characteristic of 'cloud lighting' is its wisdom. With the help of LED lighting, advanced technologies such as 'smart office' and 'wisdom family' can be realized. Traditional lighting devices, lamps, and modules cannot realize intelligent lighting. For example, it is impossible to achieve intelligent control of the lighting angle and color, and LED lamps can fill these gaps. This is also the wisdom of LED.

For the development strategy of Cree in China in the future, Tang Guoqing said: 'Curry will fully participate in the Chinese market in the future. China is the most important market for Cree in the world. At present, we need to do a good job of lighting LED devices. In order to participate in the Chinese market, we will contribute more content for everyone. The recent goals include upgrading our chip technology and increasing the sales of devices. This will enable Cree's LED product line to fully meet the needs of different customers. The application of LED in different fields. As for our mid-to-long-term goals, silicon carbide-based Schottky diodes and power MOSFETs have been introduced, and power devices are the markets we will further develop in the future. In short, we will continue to innovate, commit ourselves to our historical mission, and aim to eliminate inefficient lighting fixtures and lead the new revolution in lighting. LED this way, few people walked before, very smooth. Now that there are many people left, the road is a bit crowded. We LED people must work together to widen the road of LED, and the prospects will be infinitely broad. At the same time, market development must also follow the basic laws of the market for survival of the fittest. The revolution of LED lighting is not the transformation of a single light fixture. It is a reform of the system. It is a revolution in energy saving and environmental protection green lighting. If the future can be effectively combined with 'cloud' technology, then LED lighting may be that beautiful cloud. '


There are various models and series of Samsung Battery Replacement,such as Samsung S8 Battery Replacement,
Samsung S8 Plus Battery Replacement, Samsung S9 Battery Replacement,Samsung Note 8 Battery Replacement,Samsung Note 9 Battery Replacement, Samsung A8 Battery Replacement, Samsung A9 Battery Replacement ,Samsung galaxy s3 battery Replacement,and Samsung galaxy s5 battery Replacement,capacity from 3000mah to 4000mah.
As one of Cell Phone Accessories, Samsung Battery configured with original factory layout technology and Imported SONY 100% pure cobalt cell to achieve higher efficiency.Besides,it`s Power control technology increased by 50% to reduced energy loss and master the control and prevention, the battery`s powerful chip maintains the battery time line, prolong the life span.
Our Samsung Battery supports high speed charging and uniform speed work,wide compatibility.Featured of multiple protection function:1)Over-temperature protection 2)Input over-voltage protection 3)Reste protection 4)Input over-current protection 5)Circuit protection 6)Hardware over-current protection 7)Reverse connect protection 8)Battery overcharge protection.
Each Mobile Phone Battery goes through all the test from material to production,from cell high temperature aging test,cycle test of protection plate to end products`
resistance, current and voltage test.Our battery for Samsung adopts fully automated high-tech, the daily production of batteries reaches 12,000 pieces, each battery has passed dozens of strict tests, the defect rate is less than 3%.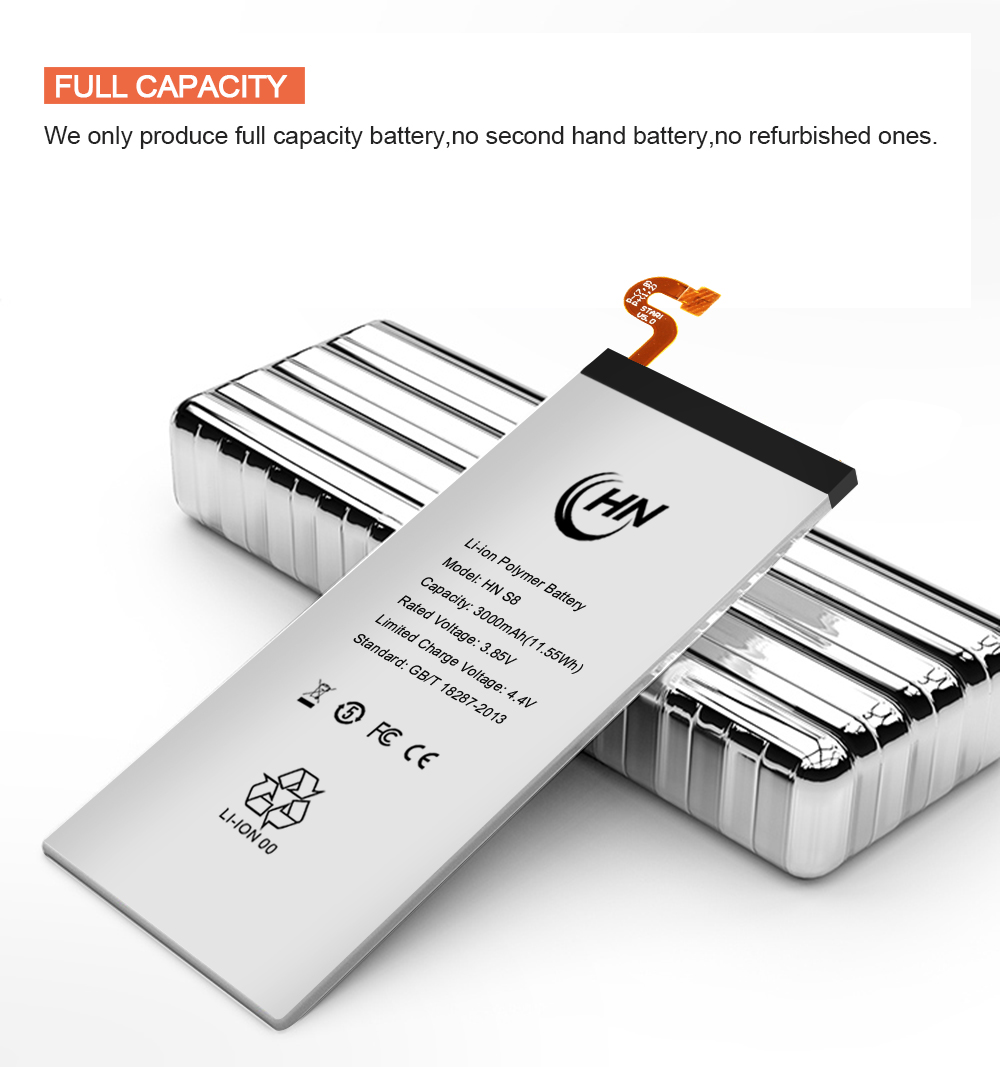 Samsung Battery Replacement
Samsung Battery Replacement,Samsung S5 Battery Replacement,Galaxy S6 Battery Replacement,Samsung S6 Battery Replacement
Shenzhen Hequanqingnuo Electronic Technology Co., Ltd. , https://www.hqqnbattery.com