2016 is the first year of VR. Almost every week, a company will release a VR machine. The VR trend is unstoppable. At the same time, because VR has extremely high requirements for graphics image rendering and system computing, the Snapdragon 820, as the most powerful mobile chip in the world, is not only sought after by mobile phone manufacturers, but also become a platform for many VR manufacturers to compete. Despite being equipped with a top-level chip, the VR all-in-one also needs to have the ability to develop the underlying system to optimize the performance of the chip to the extreme. Therefore, the high temperature and high power consumption caused by heat and vertigo have become a widespread pain point for VR manufacturers. As the world's leading provider of intelligent terminal platform technology, Zhongke Chuangda fully supports VR manufacturers and launched the world's first Snapdragon 820 VR all-in-one reference design. Make full use of the processing power of the chip, so that the CPU/GPU can play the best performance of the Qualcomm platform in the VR application scenario while maintaining low power consumption.
The world's first Snapdragon 820 VR all-in-one reference design
Zhongke Chuangda released the reference design based on the Snapdragon 820 VR, including screen, optical, PCBA, thermal design, etc. At the same time, it is equipped with self-developed VR OS for the underlying drive and energy efficiency ratio optimization, delay distortion action Tracking algorithm, Android M perfect tailoring, optimization and a full set of turnkey solutions for upper applications and launchers.
This reference design is based on the Qualcomm Snapdragon 820 platform, which provides high flexibility and flexibility while ensuring platform stability. It can be used with a single eye 1440x1440/90Hz or 2560x1440/75Hz screen; with a 95° horizontal field of view high transmission lens, it achieves a low delay capability of less than 19 milliseconds (the head attitude data transmission delay: 3ms, software algorithm Processing and process scheduling: 2ms, parallel processing of data rendering and screen display: 13.3ms, a total delay of 18.3ms), perfect VR immersive experience without display screen effect; simultaneous support for dual-band WIFI, Bluetooth 4.1 high-speed transmission; Qualcomm Fast charging technology, etc. VR application developers can use this reference design platform to easily verify the effects of software development related to personalized applications, third-party interactions, and accurately evaluate the best experience of related applications. At the same time, VR vendors can also use the platform to quickly productize, and it is no longer unreachable to bring products to market in two months.
At the same time, Zhongke Chuangda's technical advantages in the operating system level of the whole machine are very obvious. Zhongke Chuangda VR OS will first be deeply customized from the three levels of Kernel, RunTIme and Framework, greatly reducing system delay time. With its own deep optimization and core algorithms, Android native latency can be reduced from nearly 80ms to less than 19ms. This core technology truly realizes that the VR machine has no stun.
VR brain module is flexible and easy to verify
In addition to the Snapdragon 820 VR all-in-one reference design, Zhongke Chuangda launched the "core on board + operating system + core algorithm" integrated SoM solution (the brain module) in the field of intelligent hardware, the same Also suitable for VR devices. The SoM brain module is compact, powerful and easy to expand; its VR version is equipped with the best performance and most energy efficient mobile processor Snapdragon 820, integrating minimum system and core devices such as WIFI/BT; Chips such as sensors, audio, and charging can be quickly configured into a VR all-in-one or a split VR box. VR vendors can develop products based on core brain modules for rapid mass production.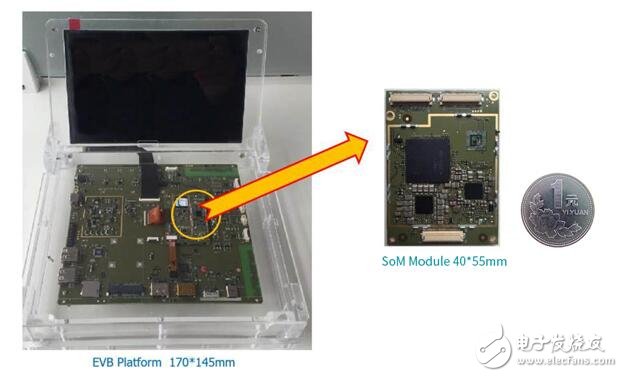 (Simplified development board diagram of SoM brain module)
Zhongke Chuangda dedicated OS deep customization optimization to achieve low latency
Zhongke Chuangda also presets its own VR-specific OS on the SoM brain module. In this way, VR vendors only need to focus on product definition and meet the differentiated needs of users. The general part of the underlying system development is completely done by the brain module. This greatly reduces the manufacturer's research and development costs and reduces the time to market. In this OS, Zhongke Chuangda not only cuts and optimizes the Android system in depth, but also minimizes the delay of the system layer facing the screen display. At the same time, in terms of VR display and delay, Zhongke Chuangda also focuses on research and development. Core algorithms, including: ATW, Frontbuffer rendering, Context Priority, distortion/dispersion correction, Sensor fusion, etc. Zhongke Chuangda's dedicated OS integrates industry-leading interactive algorithms and provides a complete SDK, which provides good support for games and videos, and facilitates secondary development.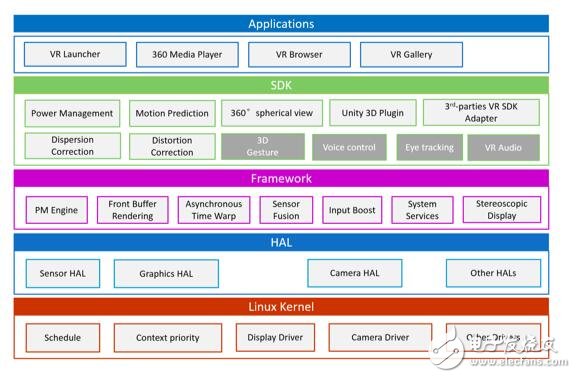 (Zhongke Chuangda VR dedicated OS architecture)
As the world's leading provider of intelligent terminal platform technology, Zhongke Chuangda began to accumulate IoT technology resources several years ago. In 2015, Zhongke Chuangda has supported several of the industry's leading "consumer-grade" intelligent hardware manufacturers, including computer modules for providing robots and smart wearable, drone solutions; Zhongke Chuangda and Qualcomm in the mobile field It has been a close partner. This year, the two companies also established a joint venture company, "Chuangtong Lianda", which focuses on intelligent hardware technology platforms and services, and provides intelligent hardware technologies, products and services based on Qualcomm Snapdragon processors. At the same time, Zhongke Chuangda and ARM also jointly created an accelerator dedicated to the incubation of intelligent hardware products: Anchuang Space.
"骁龙820" and "VR all-in-one", these two hottest hot words in this year's IT circle are combined, the effect must be electro-optical! Zhongke Chuangda hopes to cooperate with all parties in the industry chain and become an important driving force for the global VR and even the intelligent hardware industry.
About Zhongke Chuangda
Zhongke Chuangda is the world's leading provider of operating system core technology and intelligent terminal platform technology. Headquartered in Beijing, it has molecular companies in 14 cities around the world. Has more than 2,200 experienced software and hardware engineers. The company has multi-platform and multi-operating system support capabilities. It not only has rich experience in Qualcomm, Intel, Spreadtrum, Samsung, Renesas, Ruixinwei, TI and other chip platforms, but also provides Android, Linux, and many domestic and foreign first-line customers. Mobile smart terminals on Widows, TIzen and H5OS systems.
Gun safe
Gun safes are secure and protective storage containers for one or more firearms, and/or ammunition for the respective firearms.
Details:
Safes are entirely made of steel;
Made by superior fire-proof materials and special sealing materials;
Shelves are removable and adjustable;
Door bolts are in a 4 way coverage;
All gun safes passed CE certification.
Gun Safety,Fire Proof Gun Safe,Furniture Fireproof Safe ,Fireproof Rifle Safe
YONGFA INTELLIGENT TECHNOLOGY SECURITY CO., LTD. , https://www.yongfa-safe.com